University Library's current operations and responses to the COVID-19 outbreak including updates to operations, access to remote services, information about laptops available for checkout, extended loan periods, and other helpful information. 
Advisory: Sonoma County has announced a shelter-in-place order effective March 18 through May 3, 2020. In accordance with this order, the Library has closed until further notice.
Future changes to operations will be announced on the Library's homepage and on the Library Hours page and communicated out through campus channels.
Please keep all library materials at this time. Due dates for all books and multimedia have been extended until August 31, 2020.
Updated as of May 29, 2020.
For the latest campus-wide information and announcements, visit the university Coronavirus (COVID-19) Information and Updates.
For additional student and faculty resources, visit the Academic Affairs Covid-19 Info Hub.
Online Research Help
During the Library closure, the SSU community can still receive virtual library support.
24/7 Chat with a Librarian
Chat with a Librarian online, anytime, 24/7. Please note, the Librarian helping you might be from one of our partner Libraries around the world. You may experience a slight delay in response time during busy periods.
Subject Librarian Consultations via Email and Zoom 
For in-depth help with your research, make an appointment for a remote consultation via phone, email, or video conferencing with a Librarian who is a subject specialist in your area. No in-person research appointments are available at this time.
Subject librarians can help you: 
Search for information 
Navigate databases
Access materials 
Provide assistance with library services, collections, and policies.
Special Collections Consultations via Email and Phone
For in-depth help with your Special Collections & University Archives research, make a Special Collections appointment for a remote consultation via phone or email with our Special Collections Librarian. No in-person research appointments are available at this time.
Researchers are also encouraged to browse digitized, special materials by exploring our North Bay Digital Collections.
Resources for Online and Distance Students
Learn more about how the library can help you succeed in your online learning. Use this guide to find remote library services and resources available to you at this time.
Research Guides
Librarians have also created research guides to help you remotely navigate the research process. You can find guides by subject, or see if your course has a course-specific guide.
Evaluating Information about COVID-19
This is a difficult and uncertain time. We are all in this together. The SSU Library is here for you and can answer questions about where to find credible information about COVID-19. Contact a librarian or visit our guide to Evaluating Information.
Online Materials and Tools
The University Library provides access to digital materials available to you on and off campus.
OneSearch
Use OneSearch to find ebooks, journal articles, streaming media, and other online resources. Search for digital materials in OneSearch by applying the search filter "Available Online from SSU".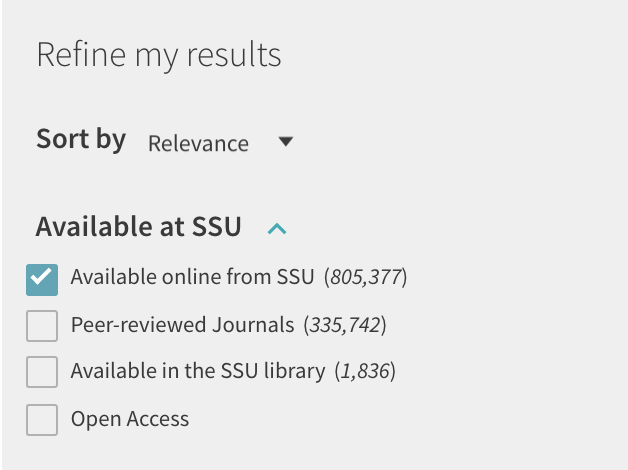 Library Databases
Library databases offer access to full-text articles, ebooks, videos, and more. Limit by 'Subject' to find the best library databases for your research.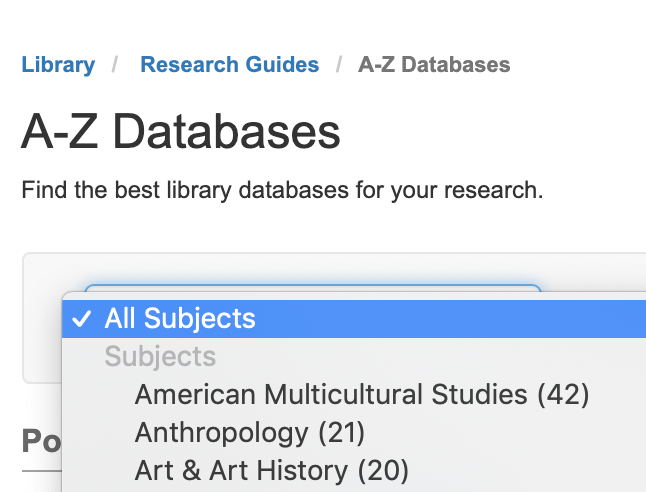 The University Library has a limited number of laptops that can be borrowed by students for remote learning on a first-come, first served basis. Students must be enrolled in Summer 2020 classes at SSU to qualify. While supplies last, you may request to have a Macbook laptop sent to your home address by requesting a library laptop by mail.
Laptops will be loaned for one semester, only. At the end of each academic term, all laptops must be returned to the library to undergo maintenance and repair for redistribution to remote learners for the following semester. All laptop loans must be returned by August 15, 2020 without exception.
We are currently only accepting requests for Summer 2020 loans. Check back in August for information on Fall 2020 loans.
Teaching Resources
Instructional Support
Contact your subject librarian to learn more about alternative formats for delivering remote library instruction to your students. Virtual instruction can take the form of a synchronous Zoom session, an embedded Canvas module, or a recorded session.
Librarians have created a digital research notebook designed to support hybrid and online approaches to information literacy development in course instruction. If you would like to adopt parts of or the entire notebook, contact your subject librarian today. 
Consider adding your subject librarian to your Canvas course as a 'Librarian,' or contact them directly.
Access to course content
The library offers many online and electronic resources (books, articles, and images, and video) that the SSU Community can access remotely. To learn how to add digital library materials to your Canvas site, visit 5 Ways to Bring the Library into Canvas. 
Place materials on reserve in the Library so all students in your class have access to required course materials.To ensure materials are available to students on an equitable basis, loan periods for reserve items will not be extended at this time.
Dependent on library staffing and demand, we will attempt to scan and digitize print course reserve materials. To request print materials be scanned for your course, contact your subject librarian today.
If you are interested in providing high quality, zero-cost materials to your students, check out our Open Educational Resources guide or contact your subject librarian for assistance.
Request a Research Guide
These customized guides to research highlight strategies and sources for particular disciplines. If you would like a guide created especially for your class, contact your subject librarian. 
Renewing, Returning, & Requesting Materials
The University Library prioritizes public safety and we do not want you to risk your health to return library materials.  To ensure the safety of our campus community at this time, library personnel can remotely work with you to extend loan dates, waive fines, and maintain holds during the COVID-19 emergency. Contact us to make inquiries about renewals, returns, and requests.
Renewing Materials
Due dates for all library materials—including books, interlibrary loans, multimedia, and lending laptops—have been extended until the start of the Fall 2020 semester. 
Please disregard any overdue notice sent to you before the start of the Fall semester. Some of our automated systems are catching up with this new state of being. Thank you for your patience as we continue to adapt.
Please note, only laptops and Reserve items accrue late fines. The Library does not charge fees for other overdue materials, including books and multimedia.
You can renew materials online up to two times after initial check-out via OneSearch. Please do not visit the Library to renew materials in-person.
Returning Materials
Please keep all Library materials at this time. Due dates for all library materials—including books, interlibrary loans, multimedia, and lending laptops—have been extended until the start of the Fall semester. 
All books and multimedia are due back on August 31, 2020.  All lending laptops are due back during the first week of classes in the Fall 2020 semester. During the closure, all fines will be waived for the duration of the service interruption. 
Please disregard any overdue notice sent to you before the start of the Fall semester. Be sure to contact us if you need an additional loan extension beyond the start of the Fall 2020 semester.
Requesting Materials
Even if you are off-campus, you can use the free Interlibrary Loan service to obtain materials which are needed but are not available in the Sonoma State University Library within 1-10 business days.
Request articles and book chapters to receive an electronic copy via email and the link for electronic download. While the Library remains closed, requests for articles and book chapters will only be accepted since media and books are not able to be delivered remotely.
Due to limited services, staff, and closures of our partner libraries, some interlibrary loan requests may not be filled at this time. No new CSU+ requests will be accepted at this time and existing CSU+ loans will automatically be extended to August 31, 2020. Due dates for Interlibrary Loan material will be adjusted and no fines will be assessed for the duration of any closure.