Table of Contents
This page contains all relevant information related to the University Library's current operations and responses to the COVID-19 outbreak, including updates to operations, access to physical collections, access to remote services, information about laptops available for checkout, extended loan periods, and other helpful information.
In accordance with state-wide and local responses to COVID-19, the Library will remain closed to the public until further notice.
Future changes to operations will be announced on the Library's homepage and on the Library Hours page and communicated out through campus channels.
Updated as of September 9, 2020.
For the latest campus-wide information and announcements, visit the university Coronavirus (COVID-19) Information and Updates.
For additional student and faculty resources, visit the Academic Affairs Covid-19 Info Hub.
Online Research Help
There are many ways to conduct research and receive assistance online. While no in-person research appointments are available at this time, support by email, chat, and Zoom are currently available to students and faculty. Virtual research services include:
Access to Physical Collections
Contactless Pickup & Delivery
In an effort to provide access to physical books and other materials while the Library remains closed, we will offer contactless book pickup and delivery. 
All CSU-affiliated students, faculty, and staff can request items via OneSearch. Library staff will pull and checkout items on your behalf. For contactless pickup, you may then pick up requested materials at the clocktower entrance on Tuesdays and Thursdays from 10:00am – 3:00pm. For personal delivery, expect to receive your library materials at your home address within the next two weeks.
For detailed instructions on requesting and retrieving library materials, please visit our Contactless Pickup & Delivery page.
Special Collections
The University Library Special Collections department is closed to the public until further notice. While the library remains closed, the Special Collections team will periodically be on-site to facilitate remote access to collections and deliver materials electronically. Please visit our Contact Us page for more information.
We also encourage researchers to browse digitized, special materials by exploring our North Bay Digital Collections.
Student Technology & Equipment
Borrow a Laptop
The University Library has a limited number of laptops that can be borrowed by students for remote learning on a first-come, first served basis. Students must be enrolled in Fall 2020 classes at SSU to qualify. While supplies last, you may request to have a Macbook laptop ready for pickup or sent to your home address by completing the the Laptop Request form.
We are currently only accepting requests for Fall 2020 loans. For more information about laptop loans, please refer to the Library Laptop Delivery Program FAQ.
Borrow Noise-Cancelling Headsets
All available noise-cancelling headsets have been claimed and are awaiting distribution. You may request to be placed on the Noise-Cancelling Headset waiting list in the event that additional equipment is made available.
Borrow a Wifi Hotspot
Need more reliable internet service? IT has a limited number of Verizon Hotspots available for a semester loan, on a first-come, first served basis. Wifi hotspots are provided and maintained by the Information Technology Department (IT). Hotspots will be mailed directly to you. Fill out the Wifi Hotspot Request form, and be sure to check the coverage map to confirm that service is available in your area. For more information and instructions on using hotspots, visit Campus IT's Wi-Fi Hotspots information page
Device Support
Experiencing issues with your device? For library laptops and noise-cancelling headsets, please contact the University Library. For support with your Verizon hotspot, please contact campus IT at helpdesk@sonoma.edu or (707) 664-HELP.
Renewing & Returning Materials
Renewing Materials
You can renew materials online up to two times after initial check-out in your library account in OneSearch. Please do not visit the Library to renew materials in person.
Returning Materials
Bookdrops are open for you to return borrowed materials. Book drops can be found directly outside the 1st and 2nd floor entrances. Do not return laptops in the book drop.
If you cannot visit campus but need to return items, you may mail your items to the University Library, at your own expense. Please address your mailed materials to:
University Library
1801 E Cotati Ave, 
Rohnert Park, CA 94928
Library books may also be returned to the nearest CSU library. Please contact your nearest CSU library to ensure they are accepting returns before returning your items there. If you return a book by mail or at another CSU library, be aware that it will not be checked in until it arrives at SSU.
Returning Laptops
The SSU Library will accept in-person returns for laptops anytime Tuesday or Thursday, 10:00 – 3:00pm until December 14, 2020. For in-person returns, bring your laptop to the clocktower ramp where a drop-off station will be located outside the 2nd floor entrance. To avoid damage fees, please do not return your library laptop via the book drop bins. 
If you are unable to visit campus, the library will provide you with prepaid postage and packing materials to safely return your library-issued laptop by mail. At the beginning of December, we will contact you with specific instructions on returning laptops and a prepaid postage label. Please keep any original delivery packaging for these returns.
Borrowing from Other Libraries
Interlibrary Loan & CSU+
Interlibrary and CSU+ loan services for physical materials have resumed. Out of an abundance of caution, staff will quarantine any materials received from other libraries. Due to these precautionary measures, there may be a delay in fulfilling Interlibrary Loan or CSU+ requests. Patrons can pick up materials requested from other libraries using the same procedure outlined in Contactless Pickup. 
Due to closures of our partner libraries, some interlibrary loan requests may not be filled at this time. 
Book Chapters & Articles
Whether you are on or off campus, you may request articles and book chapters not available through SSU Library's collection. These requests will be delivered within a few days, electronically and you will receive an email with a download link.
Reciprocal Borrowing Privileges at CSU Libraries
SSU students, staff, and faculty are eligible for library privileges at all other CSU libraries upon presentation of a current campus ID card. Please note, other libraries in the CSU system have differing reopening plans during the COVID-19 crisis. Please contact your nearest CSU library to ensure they are open and lending materials at this time, before visiting their facilities. Reciprocal borrowers must check out books according to the rules and loan periods established by the individual campus library.
Access to Online Collections
The University Library provides access to digital materials available to you on and off campus.
OneSearch
Use OneSearch to find ebooks, journal articles, streaming media, and other online resources.
Library Databases
Library databases offer access to full-text articles, ebooks, videos, and more. Limit by 'Subject' to find the best library databases for your research.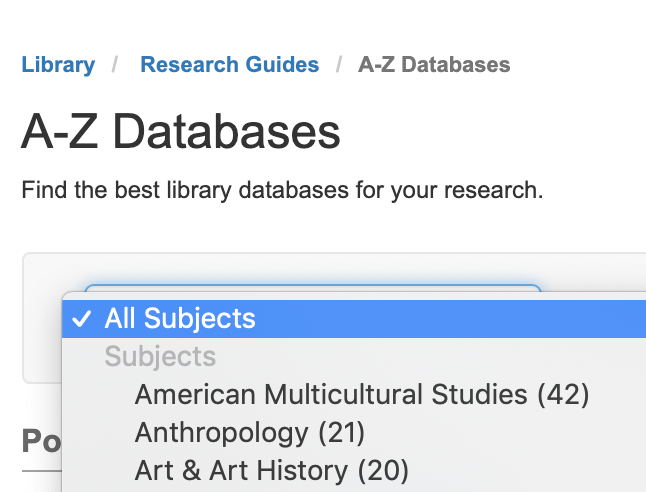 Teaching Resources
The SSU Library is prepared to support instructors while they teach remotely.
Instructional Support
Contact your subject librarian to learn more about alternative formats for delivering remote library instruction to your students. Virtual instruction can take the form of a synchronous Zoom session, an embedded Canvas module, or a recorded session.
Librarians have created short video tutorials as well as a Library Instruction Toolbox  designed to support hybrid and online approaches to information literacy development in course instruction. If you would like to adopt parts of or the entire toolbox, contact your subject librarian today.
In addition, consider adding your subject librarian to your Canvas course as a 'Librarian,' for point-of-need research consultations with you or your students. Contact them directly to learn more!
Course Reserves
Traditional print reserves will not be offered during the Fall semester. An alternative is to integrate our many electronic resources (books, articles, and images, and video) into your curriculum. To learn how to add digital library materials to your Canvas site, visit 5 Ways to Bring the Library into Canvas.
If there are no existing electronic alternatives to your course materials the library will work with you to scan and digitize physical materials, within practical and copyright constraints. To request materials be digitized for your course,
Sign in to OneSearch,
Find the item you want and click Request Digitization
Fill in the submission form with details about what is needed.

You might also consider finding and using resources that will continue to be free and openly available to you and your students after the COVID-19 crisis is over. For more information on high quality, zero-cost materials, check out our Open Educational Resources guide or contact your subject librarian for assistance.
To learn more about the options available to you, watch the Library's recorded webinar: "Connecting Students to Course Materials."
Request a Research Guide
These customized guides to research highlight strategies and sources for particular disciplines. If you would like a guide created especially for your class, contact your subject librarian.