Library Instruction Program
Our goal at the University Library is to inspire students, motivate them to see libraries and information with new eyes, and give them solid grounding to be lifelong learners. SSU graduates will not only be competent at researching and using information, they will be empowered by the confidence that comes from an evidence-based intellectual position.
Contact a Librarian
Please contact Kaitlin Springmier with questions about scheduling an instruction session. You can request a session using our online instruction request form.
Curriculum Philosophy
At Sonoma State, Library faculty foster curiosity and motivate researchers to ask informed questions that lead to a transformative experience. We work to create classroom experiences in which learners are genuinely inspired, confident, and empowered in their ability to seek out and take in information, grapple with it, and create new knowledge.
We believe that library instruction not only teaches researchers how they can access, evaluate, and attribute information, but also how structures of power, knowledge, and discourse are inextricably woven into practices. To these ends, our pedagogical philosophy is anchored by one principle: effective learning requires one to be curious, be critical, and be brave. This is the foundation for strategies within our own practice and teaching.
See the Library's Curriculum Philosophy for defined goals and strategies of our curriculum.
We continually seek to further our work by listening, collaborating, reflecting, and applying knowledge to practice. If you have questions or comments, please contact Kaitlin Springmier.
What we teach
Library Orientation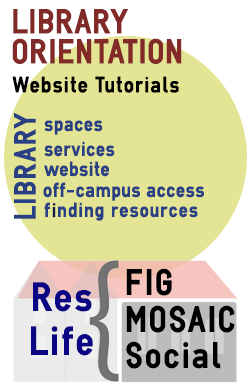 Students will
Know where the Library is located on campus, what spaces we offer, the hours we're open, and how to contact Library staff for assistance.
Know what computing services and borrowing privileges are available to them.
Know how to access the Library offsite (off campus), via wifi, and using their Library barcodes and passwords (pin).
Know how to locate a book.
Freshman General Education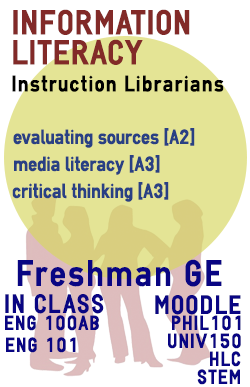 Students will
Identify key concepts and terms that describe the information needed for their assignment.
Construct a basic search strategy, demonstrating the ability to narrow and broaden search results.
Retrieve relevant information sources from the Library website as well as the open web.
Demonstrate awareness of issues surrounding plagiarism.
Evaluate information sources for authority, credibility, audience, purpose, and relevance.
Identify unstated assumptions in a variety of media. Recognize prejudice, deception, persuasion or manipulation.
In the Major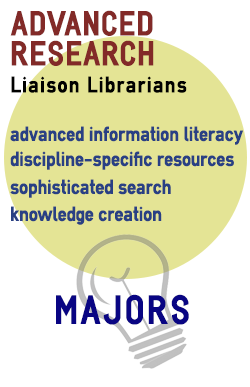 Students will
Refine a research question for a discipline/contextual purpose.
Identify and use appropriate databases for discipline-specific research.
Demonstrate familiarity with advanced search strategies and refinements (e.g. database limiters, controlled vocabulary).
Demonstrate familiarity with the publication process (how information is produced, organized, and disseminated).
Compare and contrast the scope and audience of information sources (e.g. primary vs. secondary, popular vs. scholarly, discipline-specific vs. generalist, current vs. historical).
Recognize the context of information within a discourse community.
Program Reports & Assessment