Background
Lloyd S. Simmons (1871-1955) and his wife Mabel Clara [Greeley] were married in 1894. Mabel's father, George Greeley, was a second cousin of the famed editor Horace Greeley. Lloyd's parents Samuel B. Simmons and Lucetta [Moon] Simmons lived in Kansas, where Lloyd was born in 1871. In 1883, Samuel and Lucetta brought the family overland to California, settling in the Los Angeles area. Lloyd went to the Woodbury Business College in Los Angeles and then studied pharmacy. He later operated pharmacies in Chico and Oakland. By 1903 Lloyd had moved his family to Sonoma County, where he set up the town of Sonoma's first pharmacy; much of his stock was destroyed when the 1906 earthquake shook the bottles off the shelves. Lloyd spent the remainder of his career as a druggist, running a popular drugstore in the town of Sonoma. He died in 1955, aged 83, but the pharmacy at 29 East Napa Street remained in operation until 1986. The collection includes two photographs of the interior of Lloyd Simmons' store. Lloyd and Mabel Simmons had two children: Gladys, born in 1896, and Ellis, born in 1905. Gladys worked in the drugstore. She married Neil E. Dodge, who worked in the Simmons drugstore and also owned a ranch near Sonoma. Their children were Mabelle E., Edna H. and Gladys Dodge. Most of the rest of the Simmons family continued to live in southern California. Lloyd's sister Leona May Simmons married Charles Banta and moved to Riverside, where their children Edna, Claude and Lloyd were born. Edna Banta, born in Riverside in 1905, married a Mr. Munford.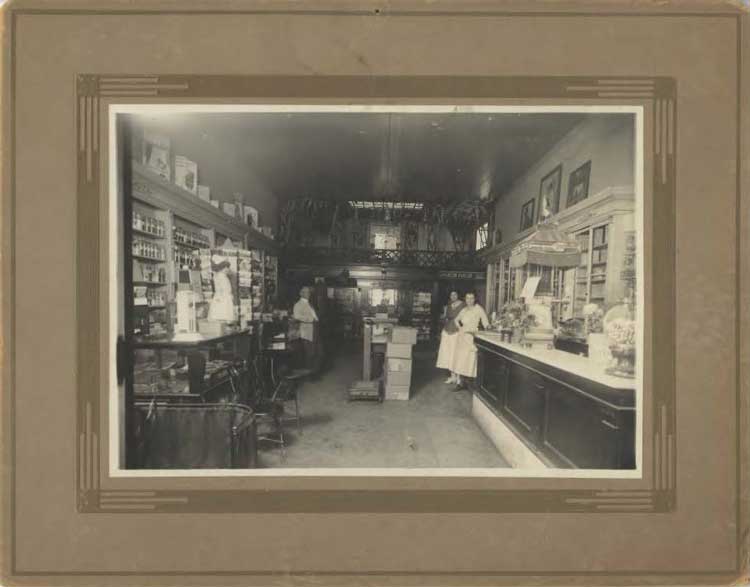 Collection
The collection consists of approximately 120 photographs (in three boxes of photographs as well as supplementary materials extracted from ring binders) depicting members of the Simmons family of Sonoma and Riverside counties and the Banta family of Riverside County, California. The photographs were first donated to the San Diego Genealogical Society by the estate of Edna Banta Munford. The Society then donated them to Sonoma State University Library. Other surnames included in the collection are Dodge, Munford, Phinney, Harve, and Wyatt.
Access
The research material in the collection is available to view by appointment.