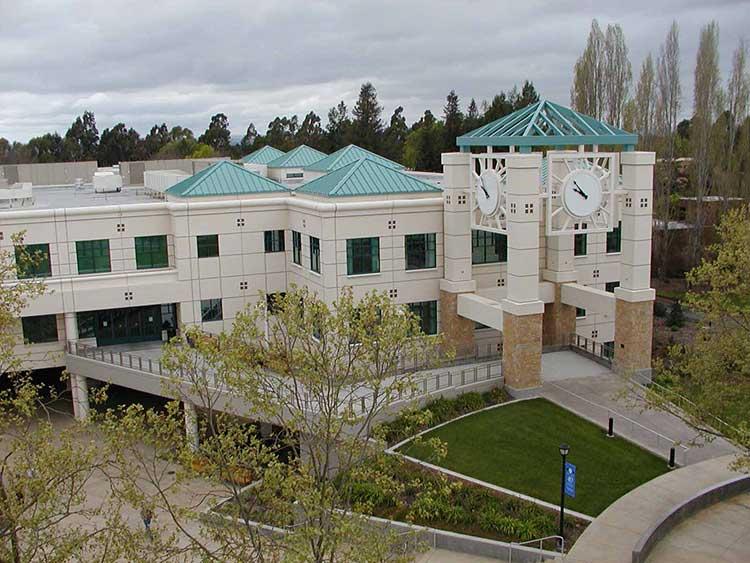 The Jean and Charles Schulz Information Center is a collaborative, bold vision designed as a regional resource for the entire Sonoma State University community. The Information Center opened August 2000 and houses the University Library, the Learning and Academic Resource Center, the Advising & Transfer Center, Center for Academic Access & Student Enrichment (CAASE), the Military and Veteran Resource Center (MAVRC), and Charlie Brown's Cafe.
Building Facts
Construction Information
Building awarded 2000 Distinctive Project Award from Western Council of Construction Consumers
Architect: ED2 International, San Francisco, CA
Builder: McCarthy, of Sacramento, CA
Automated Retrieval System: HK Systems, Salt Lake City, UT (now Dematic)
Carillon: Maas-Rowe Carillons, Inc.
Project Size
215,000 square feet
Three floors, two wings on each floor
Multiple entrances for easy access
Five acres of floor space
50,000 feet of shelving in the library
Project Costs
Building: $41.5 million
Furniture and Equipment: $2.3 million
Funding Sources
$7.5 million from private endowments and donations from SSU faculty, staff and students, including $5 million from Jean and Charles Schulz
$5 million from Cotati-Rohnert Park Unified School District
$32 million from state funding
Endowments Established in Support of the Information Center
Jean and Charles Schulz
Charles and Margaret Dexter
Clarence and Julia Leaven
RC and Suzanne T. Anderson
Jeff Bolander and Doug Pavese
Carmen Finley
Friends of the Library
Steve Picket
Ruben Salazar
Robert Young
Distinctive Features
Equipment & Technology
Automated Retrieval System with 750,000 volume capacity
Instructional Technology Center
24-hour computer lab
Hundreds of computers with Internet access throughout the building
Wireless network
Laptop charging stations 
Design Elements
Over 1,000 study seats
53 foot tall triple-faced clock tower with electronic carillon
Open terraces & patio
Art Gallery & display space
Natural and ambient lighting, including skylights
Mural honoring César Chavez
Italian marble counters and entryway flooring
Carved glass donor recognition wall
Art Deco-style alabaster chandeliers